Coldplay comes to Barcelona at the end of May, specifically they will perform at the Estadi Olímpic Lluís Companys, on May 24, 25, 27 and 28, 2023.
If you already have your ticket and you come to Barcelona by plane, Aerobús is your best option to go to the concert, since the service works 24 hours every day of the year and takes you from the airport (terminal 1 and terminal 2) to the city center in just 20 minutes. You must get off at the first stop called Plaza España and it is only a 10-15 minute walk from the Stadium.
Coldplay is a British alternative rock band, formed in London in 1997. The group consists of Chris Martin (vocals, keyboards, guitar), Jon Buckland (lead guitar), Guy Berryman (electric bass) and Will Champion (drums, background vocals and other instruments).
Coldplay's musical style has been defined as alternative rock, being compared to that of Radiohead and Oasis. The group's singer-songwriter, Chris Martin, once described the group's music as "soft rock".
They achieved international success with the release of their single Yellow followed by their debut album, Parachutes (2000), which was nominated for a Mercury Prize. Their second album, A Rush of Blood to the Head (2002) won multiple awards, including NME Album of the Year. Although their third album, X&Y (2005) did not cause as much enthusiasm, it was still positively received. The band's fourth studio album, Viva la Vida or Death and All His Friends (2008) was produced by Brian Eno and garnered rave reviews, garnering Grammy Award nominations and other accolades. Coldplay has sold fifty million copies internationally.
Coldplay has always been an active advocacy group for various political and social causes such as Oxfam's Make Trade Fair campaign and Amnesty International. They have also been involved in many charity projects such as Band Aid 20, Live 8, Sound Relief and Hope for Haiti Now: A Global Benefit for Earthquake Relief and Teenage Cancer Trust. Bassist Guy Berryman said: "It's not a huge effort on our part, but if this can help people, we want to do it. The band further stated that any gift given to them will be donated to charity.
Coldplay's last concert in Barcelona was in 2016, so this year, don't miss the opportunity to see them live and enjoy the good energy they give off.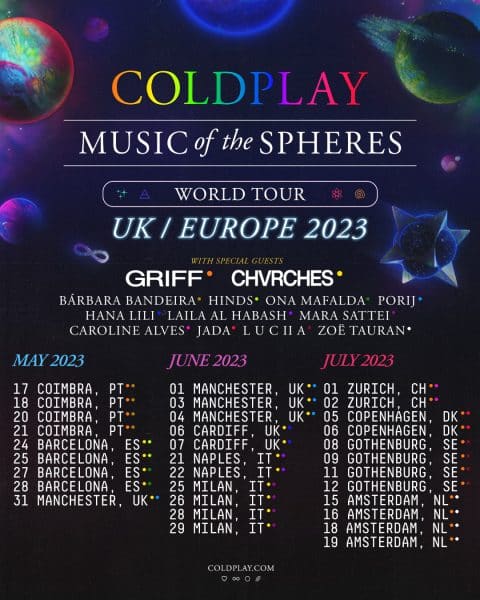 For more convenience, do not forget to buy your Aerobús ticket online and then you will only have to show the ticket to the driver and go directly to the concert.