Safe and sustainable mobility
Aerobús offers a safe journey to all its passengers, complying at all times with the regulations and recommendations of the health authorities.
The mask is no longer mandatory in public transport. We recommend using the mask in the case of symptoms compatible with the flu, covid-19 or other respiratory diseases.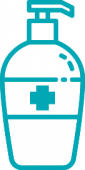 Hydroalcoholic gel dispensers
All vehicles are equipped with hydroalcoholic gel dispensers, both for staff and for passengers to use when boarding and alighting the bus.
Eating and drinking is prohibited
It is forbidden to eat and drink during the entire Aerobús journey. In addition, it is recommended to avoid talking on the phone or with other passengers in order to reduce the spread of the virus by aerosols.
Daily cleaning and disinfection of our buses
We follow a strict cleaning protocol that is carried out every day on all buses that have performed a service and where highly effective disinfectant and viricide materials approved by the Ministry of Health are used.
Continuous air renewal system
The system guarantees 99.76% elimination of viruses and 93% elimination of fungi and bacteria. In addition, our driving staff have the interior air recirculation function deactivated to ensure that the air inside the bus is as fresh as possible at all times.
You can buy your tickets through our website, app or at the ticket vending machines, thus minimising contact with third parties. On the coaches, you can pay by card or NFC and, in addition, the ticket will be digital to avoid contact with the driving staff.
Commitment to service quality and the environment
At Aerobús we have implemented a series of actions in which we seek to reduce pollution in Barcelona by committing to sustainable and clean technologies.
In addition, we show a clear commitment to Service Quality by seeking continuous improvement.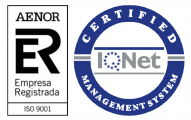 UNE-EN ISO 9001: Quality Management
It is promoted by the International Organisation for Standarisation (ISO) and nowadays it is accepted as the most solid quality framework in the world, used by almost one hundred and thousand organisations.
Under the requirements of the regulation UNE-EN ISO 9001, Aerobús directs its actions to increase the satisfaction of the client, motivate and train continuously those people involved in our organisation and in general, convert the continuous improvement of the effectiveness of the service into a constant objective.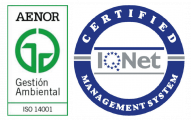 UNE-EN ISO 14001: Environmental Management
It is promoted by the International Organisation for Standardisation (ISO) and it details the requirements for the implementation of an Environmental Management System, supporting environmental protection and contamination prevention, taking into account the socioeconomic necessities of the organisation.
Aerobús works to offer their clients the option of services every day more friendly to the environment and to promote recycling activities, waste recycling and the reduction as well as the optimisation of resource consumption.