The Sagrada Familia is the most visited landmark of Barcelona. The Expiatory Church is at Eixample district, about 15 minuts from Aerobús bus stop at Plaça Catalunya if you use public transport network.
The construction of the structure began in 1882 by Francisco de Paula del Villar. One year later (1883), it was commissioned to Antoni Gaudí. He did not abandon the construction until his death in 1926. Gaudí drafted a remrkable basilica and he applied his architecture based on geometry and nature. However, he died before he could complete and he left the plans to his successors.
The Sagrada Familia is the most iconic Gaudí constructions and is the most iconic symbol of Catalan modernist architecture.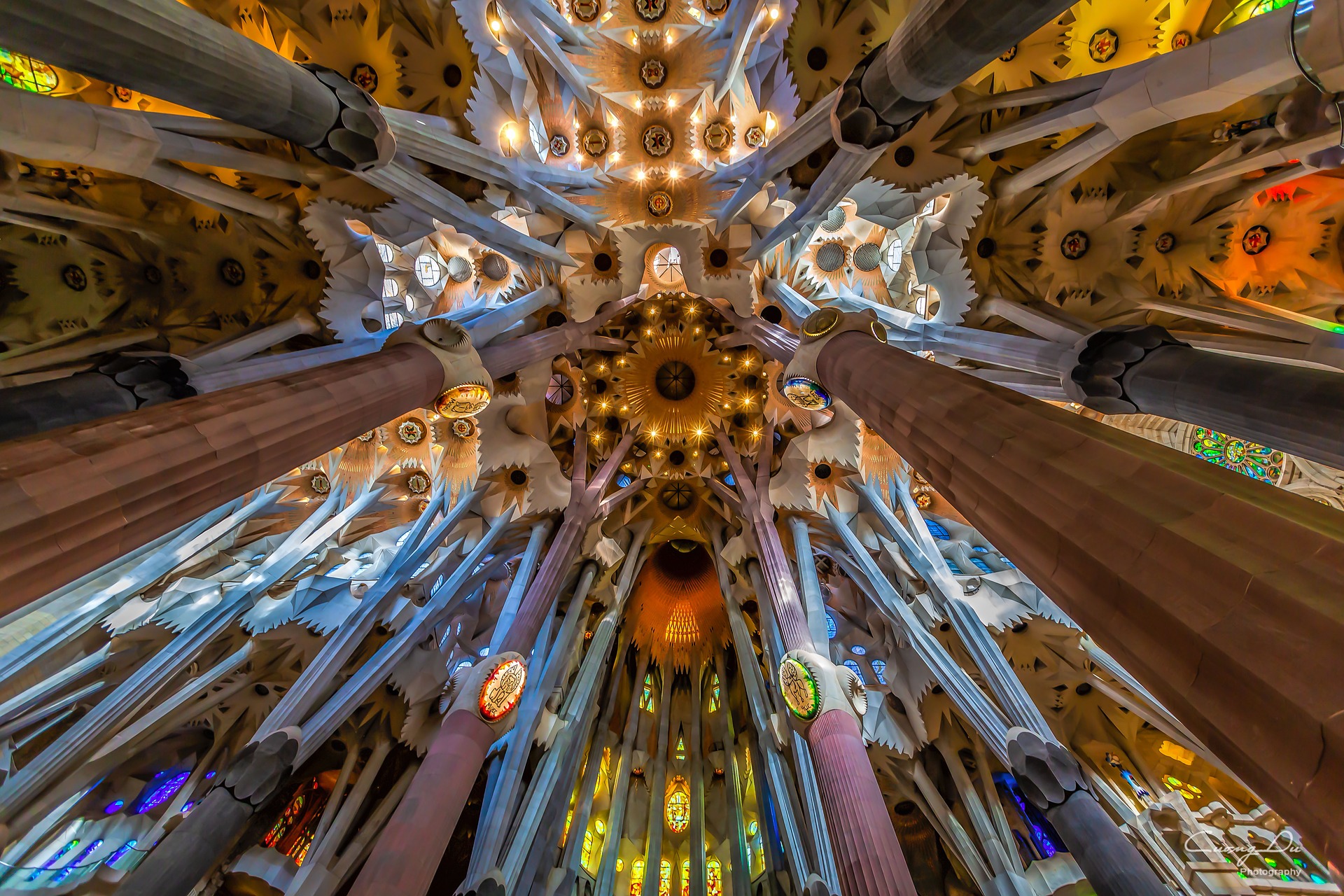 The most splendid components:
Towers: Gaudí had planned for 18 towers. Twelve of them in memory of the Disciples, four to commemorate the Evangelists, one in memory of Mary and other dedicated to Jesus Christ. Nowadays, only eight have been built.
Three façades: Nativity Façade represents Christ's birth and it is the only Gaudí could see finished. Passion Façade represents Jesus during his Crucifision and it is the most simple than the rest of façades. Finally, Glory Façade is will be the main façade and represents Jesus death and resurrection.
Pillars: the artist was inspired by the trunks of the trees to build the pillars inside the temple, creating an authentic forest.
The stained glass windows: Joan Vila Grau, the architect of the temple's stained glass windows, has known how to respect the iconography that Gaudí wanted, creating an atmosphere of spirituality and a climate full of light in which you will feel captivated.
The crypt: it is located under the main altar, where the tomb of Antoni Gaudí is.
The most common questions is when will the Sagrada Familia will be completed. It could finish in 2026.
If you are a curious person, you will be passionate about discovering the many symbolisms that the basilica hides. We challenge you to find a magic square of 16 numbers. The result of the sum, both vertical and horizontal, is always 33, the age of Christ. Are you going to miss it?
You cannot leave Barcelona without making a visit to this impressive monument. Use Aerobús to travel from El Prat Airport to city center so you don't miss any of them. Buy your ticket now!