We are already in calçots season and if you are in Barcelona you cannot miss it. We bring you a list with a selection of restaurants to eat calçots in Barcelona. Calçots season has already begun!
Barcelona is full of restaurants that at this time of year the calçot and its romesco sauce are the main protagonists of their menus. Calçot is an authentic delicacy of Catalan gastronomy. It is a sweet onion cooked on firewood.
Here we make you our proposal to eat calçots without leaving the city of Barcelona. Put on a bib, dip sauce, raise your hand and enjoy!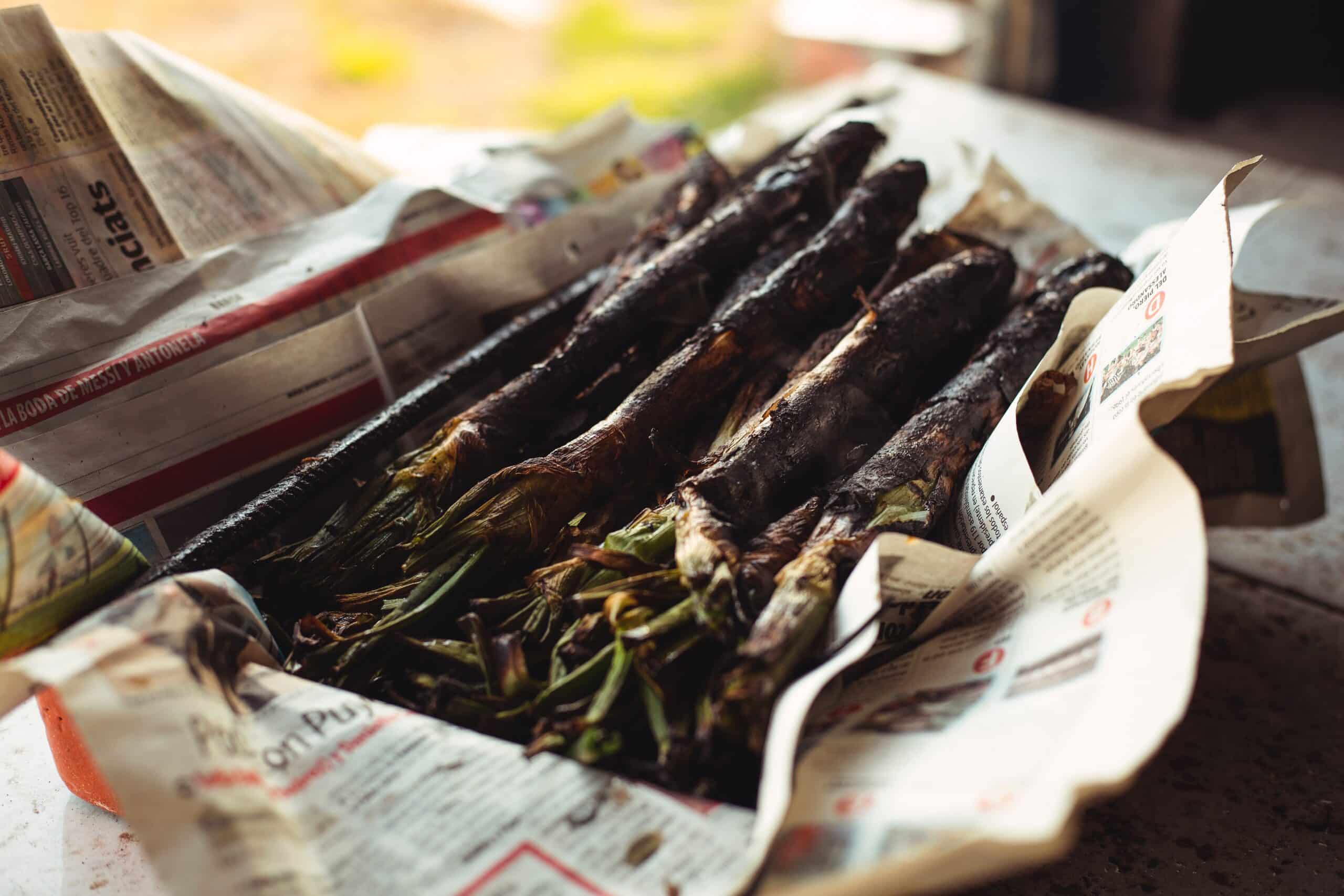 Mussol
Barcelona has several Mussol restaurants around the city. During calçots season, they offer economical menus with ecological products and Km.0. They also offer multiple menu options for vegetarians and celiacs.
Can Punyetas
Can Punyetes is one of the most famous restaurants in Barcelona where you can eat calçots. It has different locals but we suggest the one located in Gràcia. It offers an extensive menu of grilled cuisine and typical dishes of Catalan gastronomy.
El Pintor
El Pintor is located in Gothic Quarter, next to Plaça Sant Jaume. El Pintor is a gastronomic reference point since it always offers Catalan cuisine and local products.
Maná 75
If you prefer to enjoy calçots and the beach, it is possible with the Maná 75 restaurant, next to Barceloneta and Hotel W. If you want to try a different and original way of eating calçots, Maná 75 offers you its special paella. It is a paella with grilled calçots, tender artichokes and cuttlefish, cooked in 100% homemade fumet.
Can Travi Nou
If what you want is to enjoy an authentic calçotada in a natural environment, we suggest Can Travi. A rustic farmhouse from the 17th century located in the Horta neighbourhood. They offer traditional Mediterranean dishes and in calçots season they are famous for their calçots menu accompanied by grilled meat, beans with potatoes and aioli and Catalan cream for dessert.
Can Cortada
Can Cortada, from the Travi group as Can Travi Nou, is a farmhouse with history. It is an old and well-preserved castle Artistic Heritage of Barcelona. Since 1994 it offers a traditional gastronomy of quality autochthonous products, specialized in meats. Live the experience in a rustic and cozy environment with many years of history.
Quick guide to eating calçots
1. Put the bib.
2. Grab the calçot by the part of its leaves.
3. With the other hand, remove the burned skin to reveal its white interior.
4. Mix it with the romesco sauce.
5. Raise your hand high to taste it.
If you are in Barcelona, ​​you no longer have any excuse for missing out on this Catalan tradition as far as gastronomy is concerned. From Aerobús we encourage you to try this dish, served on a tile, with romesco sauce and accompanied by grilled meat. Remember that Aerobús operates 24 hours a day, every day of the year.