It's summer and the body knows it! And if you are in Barcelona you will want to have a good cocktail and enjoy good views of the city, watch the sunset with music and a good atmosphere.
In Barcelona you have thousands of options for very cool hotel terraces, but at Aerobús we want to make your search easier and we tell you the 3 best ones.
Hotel Arts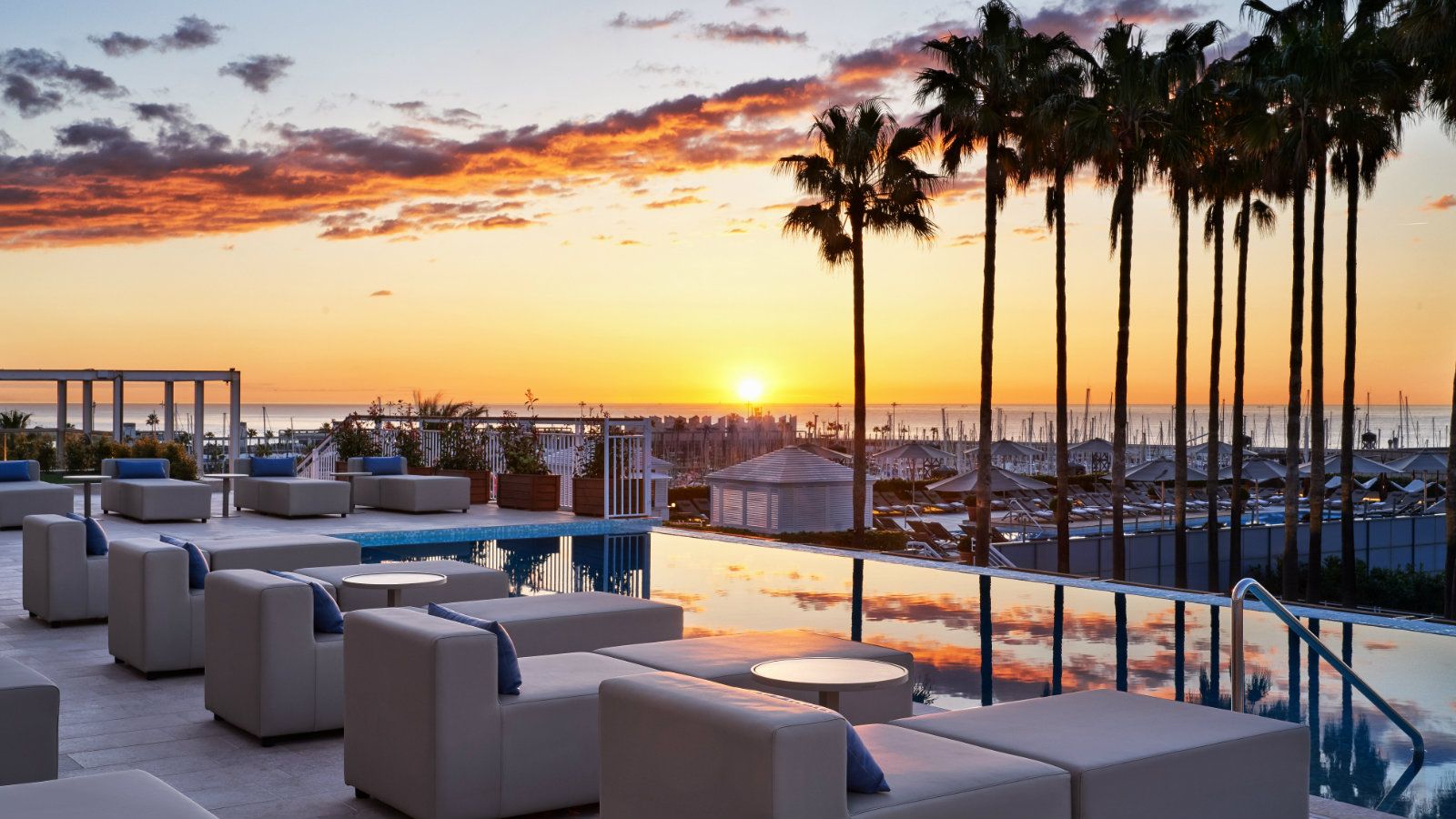 Facing the sea is the Hotel Arts, with a heart-stopping infinity pool. Whether or not you are a client, you can enjoy the hotel's terrace. It is open every day from 8:00 p.m. Also, on Tuesdays and Thursdays, it opens first thing in the morning to start the day with a yoga session.
It is a perfect place to enjoy the views of Barcelona beach with music.
Hotel Royal Passeig de Gràcia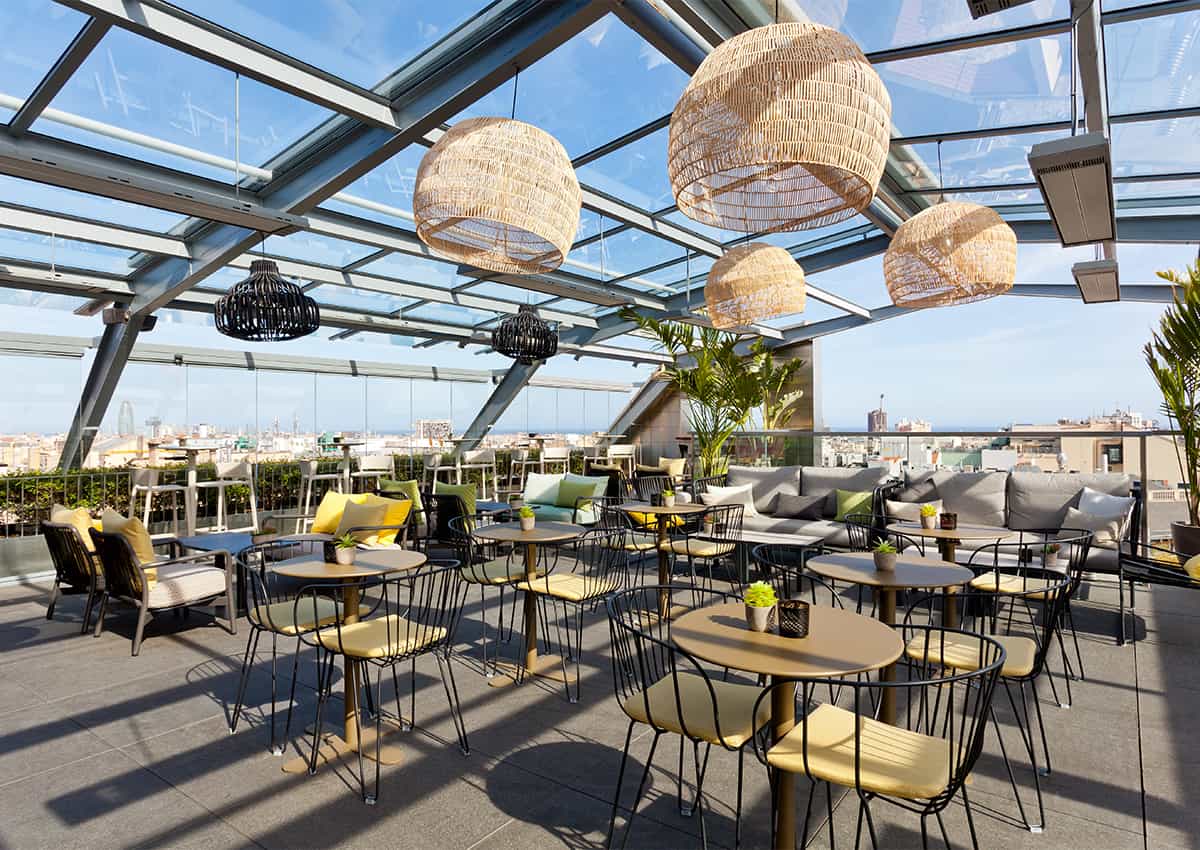 The terrace of the Royal Hotel in Paseo de Gracia will be almost touching the sky of Barcelona and enjoying the panoramic view of the city. It is one of the few terraces that is open throughout the year, thanks to the fact that it is covered with a large window, which protects from the cold, but lets in natural light and enjoy the views.
Do not miss their Sundays Sunsets, an event that will be held the next two Sundays in July from 6:00 p.m. to 9:00 p.m., with live music and Martini.
Hotel Barceló Raval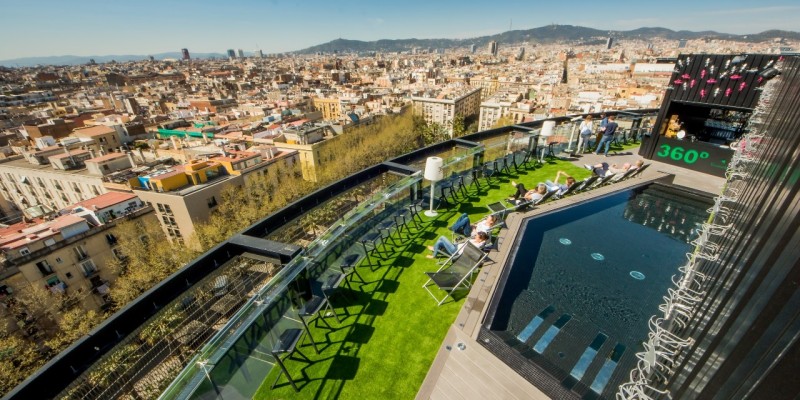 The wonderful terrace of the Hotel Barceló Raval has incredible 360º views where you can enjoy the panoramic view of the city. It has a swimming pool and a viewpoint bar.
Horario Bar Terraza:
⦁ Monday, Tuesday and Wednesday: from 12:00pm to 10:00pm.
⦁ Thursday, Friday and Saturday: from 12:00 p.m. to 01:00 a.m.
⦁ Sundays: from 12:00pm to 12:00am.
You no longer have excuses to take photos of yourself high above the city while you have a drink with friends and enjoy music, a good atmosphere and sunsets.
Aerobúsbrings you to the center of Barcelona, ​​from theairport to Plaza Cataluña in 35 minutes every day of the year Remember that whatever time it is, you can take the Aerobús since the service is 24 hours. Buy your ticket online now and start your summer in the best way.