Winter is coming and in the cold season, you feel like having hot drinks. Among them, the confessable sin: hot chocolate with churros. Aerobús invites you to visit the 10 best chocolate shops, where you will enjoy the best churros in the city with friends or family.
In case you are curious, the churros are made of water, flour (generally wheat, although it can be of another origin), oil and salt. Its shape can be straight, in the shape of a cane, in loops or curlers (spirals). The typical churro is coated in white sugar and is usually accompanied by a cup of hot chocolate. But there are also modern variants, sometimes they can be filled with chocolate, pastry cream or dulce de leche. There are even salty ones!
If you are visiting Barcelona or even if you are from here, we recommend that you visit these churrerías that will leave you with a very good taste in your mouth.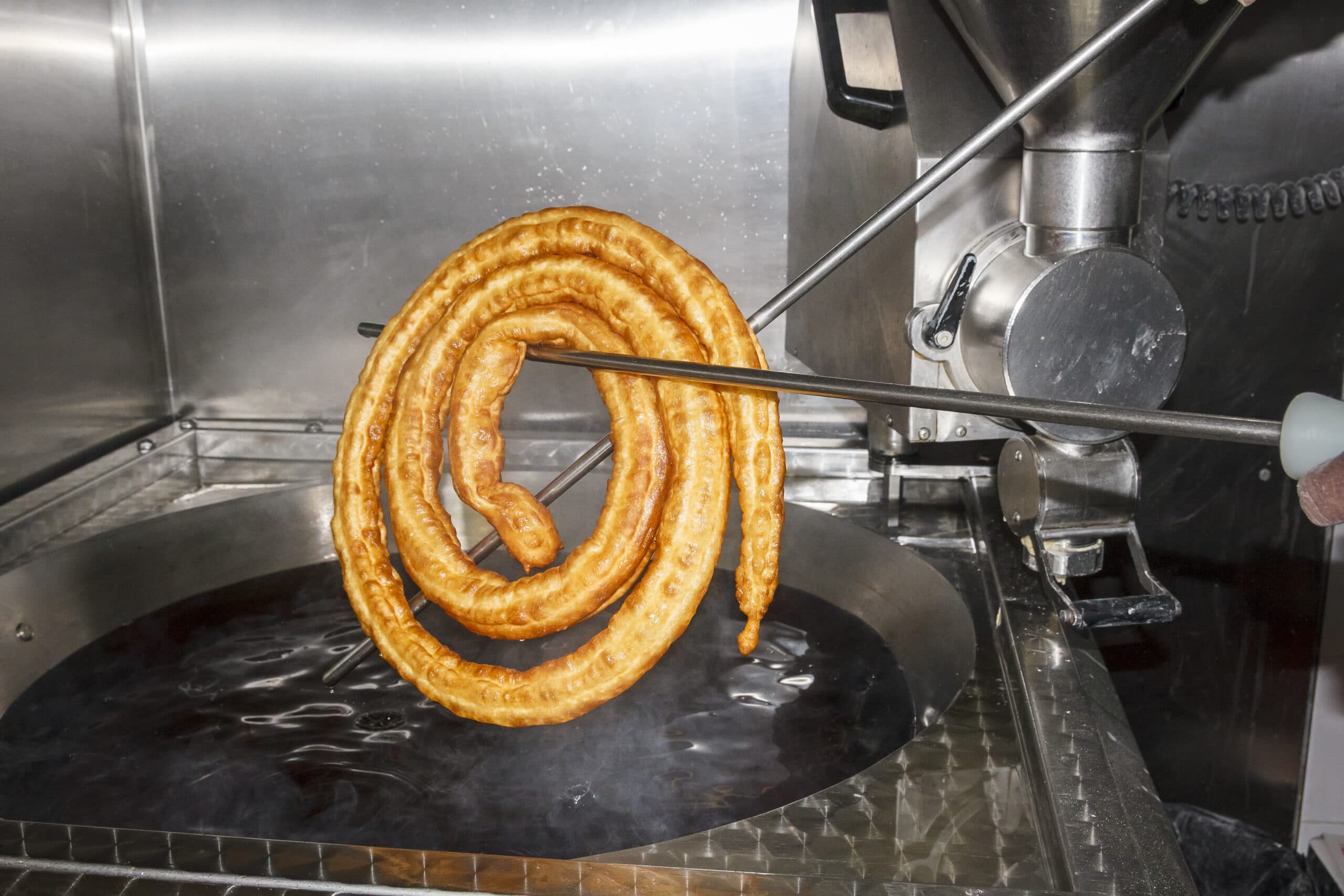 The concept of "farm" in Catalonia is understood as "small home bar" and the Granja Viader transports you to the past, a place with marble tables with their old and heavy iron legs, the colors of the tiles that adorn the floor, the family photos and the old posters. In 2020, the place turned 150 years old and the Cacaolat formula was made there. A place to relax and enjoy some "lifelong" churros with chocolate.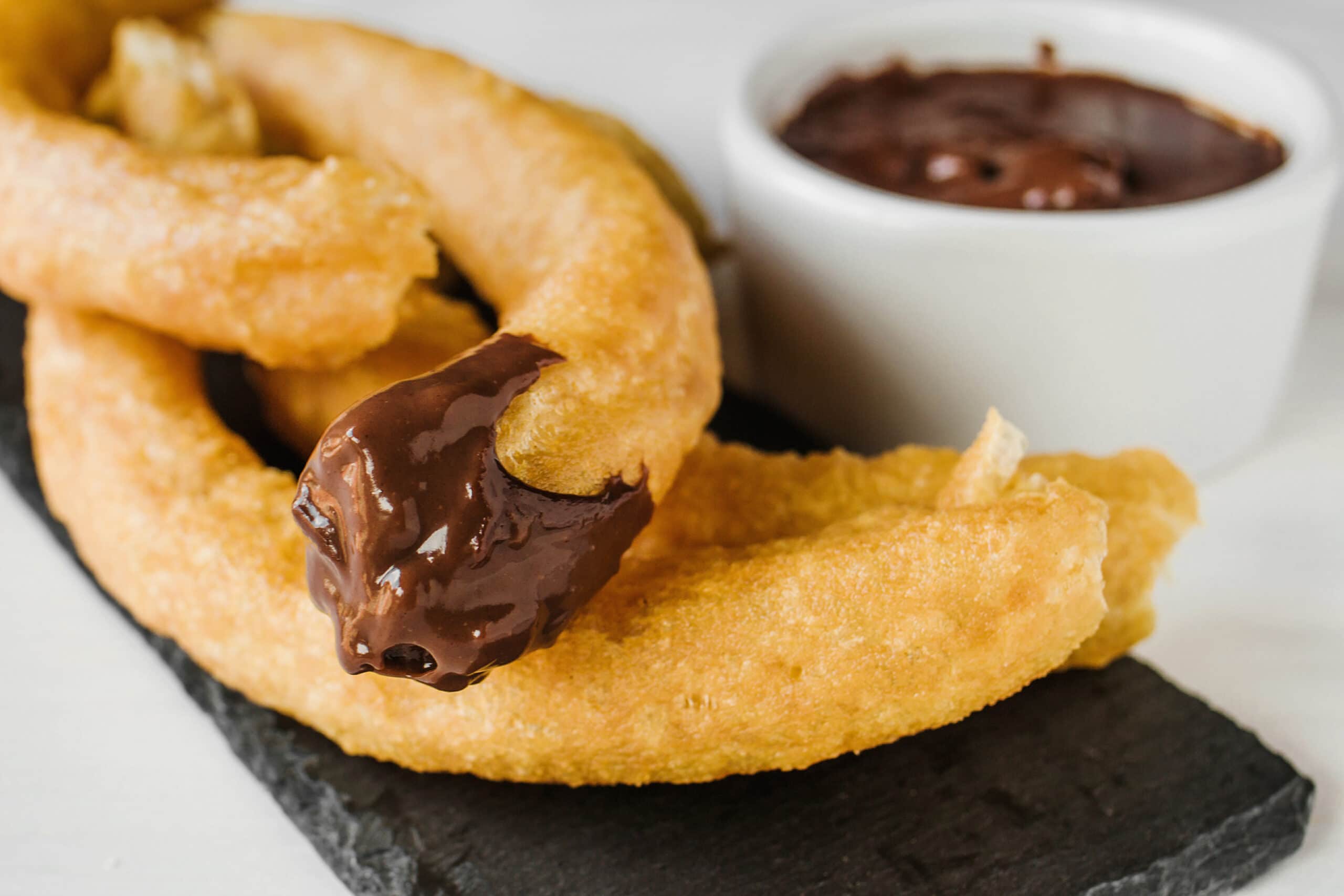 One of the most emblematic chocolate shops in Barcelona. In 1941 it was founded by Juan Mach and Elvira Farràs and today it continues with the family tradition. In addition to chocolate with churros, at Granja Dulcinea you can taste the swiss with melindros (soletilla sponge cakes) and hot chocolate with ensaimada.
Petritxol Xocoa is a traditional shop, but it is not only a store of chocolates, chocolates, tablets of all kinds or pure cocoa powder, but it is also a perfect place to have a good cup of chocolate with churros with cream .
CHURRERÍA SAGRADA FAMILIA
If you are in the tourist area of ​​Sagrada Familia, take the opportunity to try the delicious churros at La Churrería Sagrada Familia. It is a small family establishment that opened its doors in 1950 and continues to offer classic churros products, from rinds to potatoes of different types, hooks or nose.Here you can also find some spectacular churros, which can be thin or thick, simple or stuffed with Nutella, pastry cream or dulce de leche.
The Comaxurros churreria is the most modern of the entire list that we propose, but it maintains the traditional recipe for making churros, presented with delicious hot chocolate. It is located in the Sarrià – Sant Gervasi district and the fluorescent pink neon of its sign captures anyone's attention. One of its most innovative products is, for all those who say "I'm a salty person", the salty churros with cheese sobrasada or the brave churritos (with brava sauce).
If you like churros a little thicker than the usual ones, a little oily, and you are always looking for artisan products without additives, and if you are also a fan of chocolate, you will regret your whole life for not having gone to Chökbefore. This space specialized in the world of chocolate serves an absolutely irresistible, 100% natural one by the cup, which we must combine with a few churros that are made daily in the establishment's workshop. Also, they have gluten-free products!
La Nena Chocolatería is also a family place, perfect for having a picnic with children. Located in the Gracia neighborhood, it is an establishment that offers homemade chocolate with a wide range of cakes. Its decoration is full of books, pictures and games available for the little ones.
This churreríais located in the Eixample and also offers an exquisite chocolate with churros. One of its attractions is that it is open 24 hours a day on Saturdays, so if you fancy a hot chocolate at night you can have it here.
Another typical churreria, located on Petrixol street, where you can find a dense and thick chocolate and delicious churros. The place, decorated with large paintings on its walls, has a timeless and impersonal look and is staffed by old-fashioned waiters: wearing a white shirt, black pants and a bow tie.
And finally, we finish with the Churre, located at the beginning of Blai street, it is perfect to have some churros with chocolate after having made the vermouth with tapas.
Ahora que sabes donde se encuentran las mejores chocolaterías de Barcelona, no pierdas el tiempo y ven a probar estas deliciasNow that you know where the best chocolate shops in Barcelona are, don't waste your time and come and try these delicacies.Aerobús takes you from the airport to the city center in just 35 minuts and circulates 24 hours, 365 days a year.