As a Barcelona's visitor you probably have heard about one of the most famous Spanish tapas, patatas bravas. Patatas bravas can be soak in salsa made from alioli, tomatoes, cayenne, mayonnaise, can be spicy, irregular cubes, etc.
Eating some delicious tapas is a must during your stay in Barcelona. Maybe someone tell you that Tomás Bar is the most know place for serving the best patatas bravas in Barcelona. It is famous by their quality with their secret sauce.
From Aerobús Blog we want to suggest some places where you can taste this dish with its delicious in Barcelona.
Elsa and Fred
Found in the El Born neighborhood, you will find Elsa y Fred, the restaurant that stands out for its creative cuisine of classic tapas and sandwiches.
Their patatas bravas are famous for this soft roasted garlic alioli made with salsa brava and a little of black pepper.
Sant Antoni Gloriós
Sant Antoni Gloriós a classic cellar in Barcelona and they keep the recipe for its famous patatas bravas. The potatoes are cubes with a sauce of smoked alioliwith sweet tomato sauce.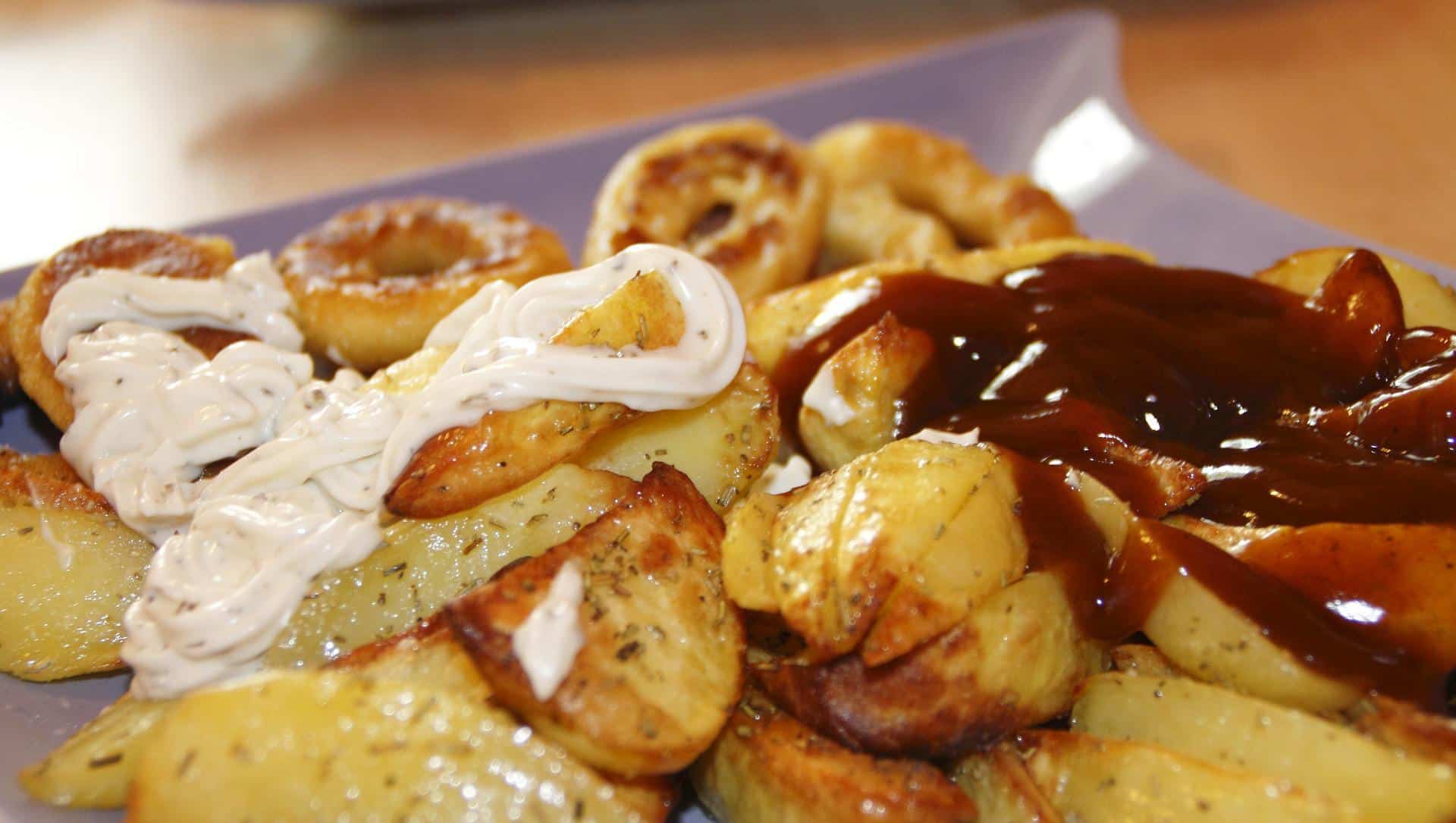 La esquinica
In Nou Barris you will find the Aragonese tavern, La Esqunica. They offer irregular potatoes accompanied by a powerful alioli sauce with hot paprika sprinkled on the top.
Senyor Vermut
Senyor Vermut is a traditional vermouthstyle in the Eixample. Its main dishes are the bomba and the bravas. Order a vermouth with a tapa of their special crispy square potatoes with spicy brava sauce and alioli. They usually serve the tapa with a green pepper at the top!
El informal
El informal shows youthe most original and different potatoes by Marc Gascons. The restaurant, El Informal is in The Serras Hotel. .
It is about potatoescut in the mille-feuille style, with makes them very crispy. We recommend you accompany the tapa with a cold wine or beer in a very calm place.
If you want to know more about places to sit down and enjoy some good patatas bravas, we recommend @bravasbarcelona. Edu González is an expert and he searches the perfect brava recipe. Have a look at his websiteand you will find a largest database of bravas in all of Barcelona.
If you come to Barcelona, Aerobús take you directly to El Prat Airport Terminal 1 and Terminal 2. Buy your ticket!